Nothing is more enriching than the vibrant colors of flourishing plants! The greenery in the gardens and forests around us make us feel more connected to Earth; this is why nature enthusiasts often love to embellish their homes with lush gardens. Whether it be a pond garden in the backyard or a variety of flora on the front porch, plants create a whole new ambiance in any home.
Places like New York have been blessed when it comes to the natural ecosystem. We have a variety of breathtaking plants and flowers that few have previously admired. This is one of the many reasons why gardening is thriving on Long Island.
Enter the hanging basket – they brighten the atmosphere of any location with splashes of brilliant color, and are commonly seen with an assortment of colorful flowers, perennials, and succulents. Hanging baskets are both compact and beautiful, and can be placed in any corner of the home or office in addition to outdoors. As an added bonus, they also emit floral fragrances that sure enliven any room.
Hanging baskets are not subject to typical complications that traditional gardens face. Being planted at higher levels, hanging baskets are not exposed to weeds or animal intrusion.
If you are looking to start a new hanging basket garden, here are several tips you can use to keep it thriving all year-round.
Get a Head Start!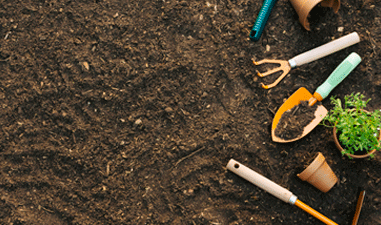 This is one of the best tricks to get started on growing beautiful hanging baskets. Start as early as possible by planting seeds indoors. This is usually done about two months prior to the start of the spring season. For reference, you should start planting a little earlier than your usual vegetables. Starting early ensures that the seedlings fully rise to soil level by the time they can be placed outdoors. Of course, be sure that your garden is placed near a window and receives plenty of sunlight when growing inside.
Proper Watering!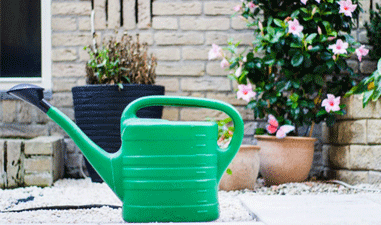 Hanging basket gardens have the same draining nature as usual planting. However, in this case, the water completely escapes the habitat instead of seeping into the deeper levels of soil like in normal soil-based planting. This is due to the holes at the bottom of the basket, which allow for proper circulation of wind and air. Although the holes are small, the plants in the hanging baskets have little to no water holding capacity due to limitations in the area they are spread in. This is why it is essential to water these gardens regularly.
This is especially true for gardens containing tropical and/or perennial plants which require excessive water for proper nurturing. One of the easiest ways to ensure proper irrigation is to install a smart automatic watering system.
Regular Fertilization!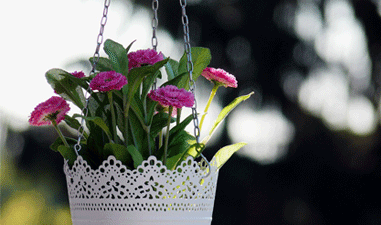 Just as humans need food for nourishment, this also holds for hanging garden baskets. Plants obtain their nutrients from the soil. If the soil begins to run out of nutrients, hanging basket flower and plants often begin to fade.
This problem can be easily resolved by using fertilizers regularly. To make the soil even more oxygen-rich, you can try adding a small amount of worm castings to the hanging baskets every 30 days. These help in the production of a naturally decomposing fertilizer. As the decomposition happens, the nutrients present in the decayed castings run down through every layer of the soil, getting absorbed by the plants. As an alternative, you can substitute used coffee grounds if worm castings are unavailable. Chemical fertilizers on a bi-weekly basis are also an option if you wish to utilize a liquid sprinkling approach.
If you are unsure about the right kind of fertilizers, Reliable Garden & Ponds is happy to help! We offer a variety of gardening services in Suffolk County, New York. Our professional staff can assist you in creating the garden of your dreams!
Make the Right Selection!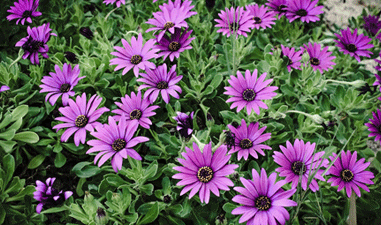 Unfortunately, not every plant can be grown inside hanging baskets. The most successful varieties include tropical and perennial plants and flowers.
Some popular perennial flowering plants include Osteospermum, Petunias, Supertunias, Scaevola, Verbena, Bacopa, Creeping Charlie, Lotus vine, Sweet potato vine, Trailing Lobelia, Trailing petunia, Alyssum, Browallia, Calibrachoa, Diascia, Ivy geranium, Lantana, Nemesia, and Licorice plant.
Popular choices in the tropical shade plants include Mimulus, Bacopa, Creeping Jenny, Lobelia, Begonia, Coleus, Dracaena, Fuchsia, Impatiens, Lamium, and Polka-dot plants.
Choosing the right set of plants and flowers plays a crucial role in making any garden out of hanging baskets.
Reliable Garden & Ponds has been in the garden center business for over three decades. We have been offering our gardening services to hundreds of happy customers on Long Island, and can assist you in designing the perfect hanging basket garden using plants from local farmers! Contact us to get started today.